Plan a Romantic Night-in with Your Valentine and Formovie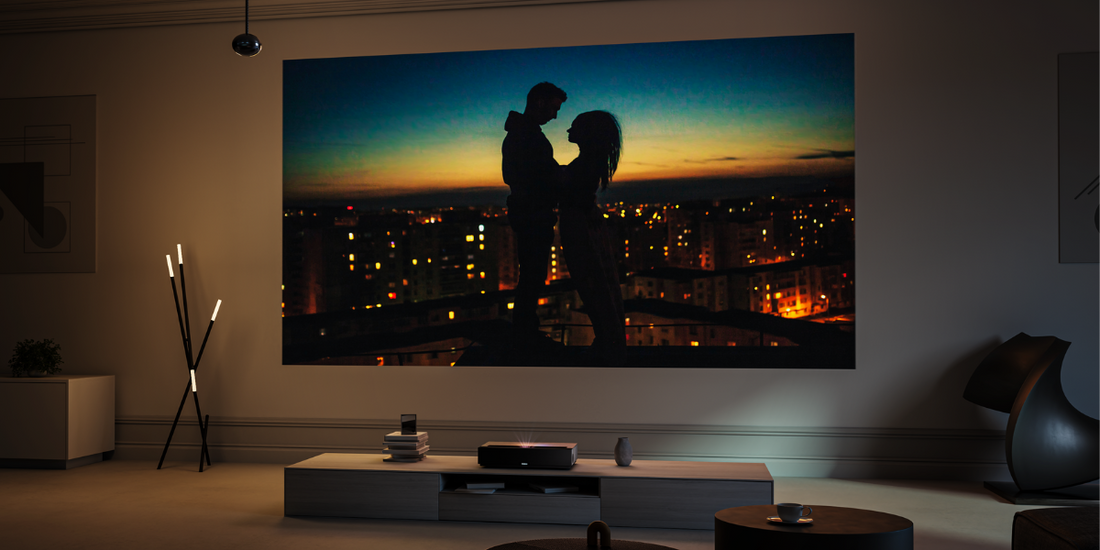 Planning for a midweek Valentine's day can be a bit tricky, because a) chances are you've just spent half the day at work, and most of the nice restaurants are all fully booked because you forgot Valentine's day was coming. Or b) It's a little late to get that very important pair of socks that your partner just can't wait to receive, and all the fresh flowers have been bought up by people who must surely be more romantic than you. Well, you can relax. Formovie is here to remind you that a romantic Valentine's day at home may be exactly what you need to feel more connected to your significant other, and we've got a few ideas to get you started. 
Made with Love
It's not a secret that food is a love language for many people, which could explain why restaurants are so packed on Valentine's day. Another open secret is that homemade food just seems to taste better, and it may be because it's made with love, which fits perfectly with the theme of the day. Your projector can be useful during the preparation stage as you can stream videos and learn how to make pasta from scratch, or even learn the recipe for the perfect curry. 
Romantic Gestures
Sometimes, gestures feel romantic because it's really nice to know that the other person put some thought into finding a way to make you happy. Something as simple as a candle lit bath, a foot massage, or a face mask with cucumber slices for the eyelids can make your lover feel special, especially after a day at work. With the power of a projector you can play incredible videos to help set a tranquil scene with cascading waterfalls or starry night skies, to take your mini spa at home to the next level.
Movie Night
Watching a movie together is one of the best ways to just simply enjoy each other's company, and Formovie specializes in making that experience completely immersive and memorable. Whether you're in the mood for something a little scary or you want to stick to the Valentine's day date night theme, you can enjoy our movie suggestions on a huge screen at home in the most stunning picture quality.
Couples Meditation
While meditating alone can help center your thoughts and calm your mind, meditating with your partner can further strengthen your bond to make you feel connected to one another. Innumerable videos on the web provide guided couples meditations and the benefits thereof. You can follow these guides and transport yourselves into a safe meditative space with the built-in speakers of your projector.
How Formovie Enhances Your Valentine's Day at Home
Created for an unbeatable home entertainment experience, one of the best Laser TVs currently on the market is the Formovie THEATER which was ranked as the top choice in both the display and sound categories of the 2022 Laser TV Showdown. This is the ideal home projector for couples who enjoy movie nights with high-quality imagery and audio. 
It features a Bowers & Wilkins sound system with Dolby ATMOS to create a spatial sound experience

It packs an impressive 2800 ANSI lumens of brightness, 3000:1 FOFO contrast, and 4K Ultra-High Definition for crystal clear images day or night. 

Supports both Dolby Vision and HDR 10+ for the best dynamic range video display.

Runs on Android TV 11 OS which supports more than 5000 streaming apps and limitless streaming websites.
This compact and portable projector is perfect if you're planning on turning your bathroom into a miniature spa for a few hours. It has a built-in sound system and can transform any decent size wall into a full-sized screen for your convenient enjoyment.
It also features 700 ANSI lumens delivering powerful brightness in medium to low lighting conditions like a candlelit bathroom

Uses a DLP light source to produce HDR10 imagery that's perfect for realistic scenic displays

DTS & DOLBY certified sound quality from the built-in speakers

Certified Android TV™ 9.0 grants you a variety of viewing options
It's a tiny projector that's surprisingly powerful, and it uses a laser light source to produce the most brilliant images effortlessly. You can easily project videos on the meditation app directly from your phone, or stream videos from YouTube with no problem.
ALPD® light source for an accurate display of a wide range of vivid colors

Built-in speakers provide the full package of entertainment in your pocket

800 ANSI lumens that are suitable for medium to low ambient light

Provides a screen size of up to 100-inches

Support wireless screencasting that eliminated the need for additional cables
The Month of Love
Don't let the romance be limited to just February 14th. If you're really in the spirit of romance you can do one thing on this list each week to keep the fire burning, with just a small amount of effort. Check out our Super Bowl Special offer and save up to $300 on your Formovie purchase.