Create the Ultimate Date Night with Formovie THEATER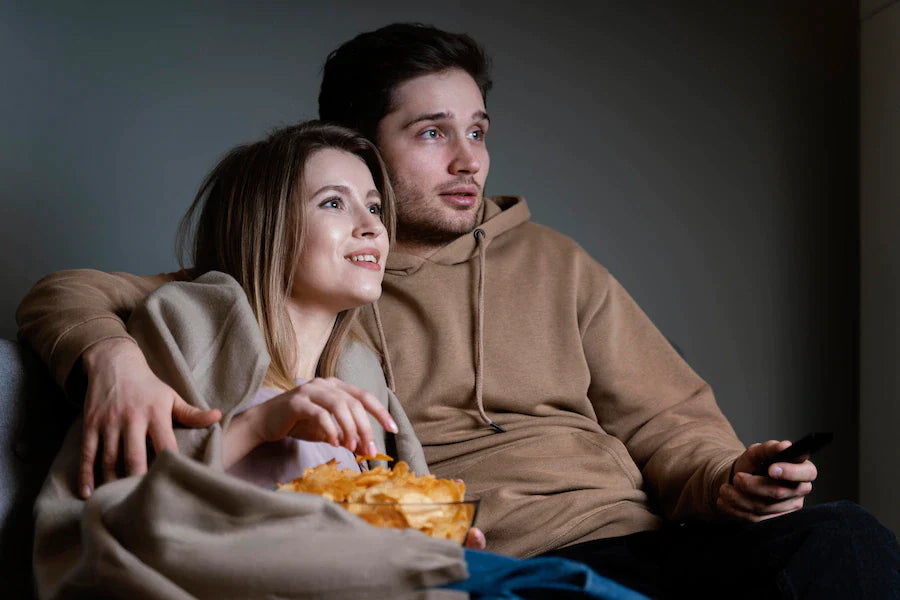 It's Friday night and you have your significant other all to yourself with no work, no chores, and nothing stopping you from enjoying a well-deserved night in. You switch on your Formovie THEATER and almost instantly, 150 inches of triple laser light are projected upon the wall, and you're all set for your private cinema experience. The only problem you have now is preparing the snacks, and deciding what your best viewing options are.
Big Screen Quality
Formovie THEATER has been engineered with the intention to turn any viewing experience into the ultimate one, by merging a combination of technologies specifically designed for cinema-level quality. 
Dolby ATMOS surround sound enhances the Bowers &Wilkins  (B&W) speakers built into the laser projector, to deliver a sound adventure that places you right in the center of the action. The technology was designed to be used in cinemas, to create a multi-dimensional sensory experience that immerses viewers into the depths of any narrative. B&W has been making premium home loudspeakers since 1966 and has over 50 years of experience in the realm of sound. 
Additionally, the Formovie THEATER projector utilizes ALPD 4.0 RGB+ Triple Laser to deliver 4K Ultra High Definition resolution and 2800 Lumens of brightness. This combined with Dolby Vison ensures incredible depth and contrast of ultra-vivid colors. Dolby Vision was created in 2014 and is the world's first High Dynamic Range (HDR) video format. This format gives creators a wider range of colors to work with when making content and is supported by a range of streaming services like Netflix and Apple TV Plus since it has grown to become the preferred format to create in.
What's there to watch  
Whether you're looking for adventure, romance, or something that'll have you on the edge of your seat, the built-in far-field voice capability means you can ask your Google Assistant to play anything while you get the snacks ready. There's absolutely no limit to the number of things you can stream directly from the projector or Chromecast from another smart device. Formovie THEATER comes standard with Android TV 11.0 which supports more than 5000 movie apps that can be downloaded from the Google Play store, such as Hulu, Amazon Prime Video, and Disney+.  We've curated a list of things to watch that'll allow you to enjoy the best features of your projector while enjoying your time together.
Date Night 
Phil and Claire Foster (Steve Carell & Tina Fey) fake their way into an up-market, exclusive restaurant in an attempt to spice up their marriage and have a fun night out. Their last-minute decision to steal a table reservation turns into an unforgettable night of mistaken identity, in which they literally have to run for their lives. 
Man vs. Bee
British actor Rowan Atkinson stars in this comedy about an unemployed man who lands a job house-sitting the mansion of a businesswoman. Unfortunately, he ends up causing damage to the entire house after a vicious fight with an unstoppable bee.  
La La Land
This film is a visual and musical spectacle set in Hollywood, that describes the innate desire in us all to turn our dreams into reality. La La Land tells the story of an actress and a musician who fall in love while fighting to materialize their own desires in the land of dreams. 
Reacher 
The series which is based on the novel Killing Floor, by Lee Child, follows retired military officer Jack Reacher as he attempts to solve a murder case that he's been arrested. The matter becomes more personal to Reacher when he learns that his brother is the man he has allegedly murdered.
The Notebook
Based on the novel inspired by Nicholas Spark's relatives, The Notebook is a story about an elderly man who reconnects with his demented wife by reading to her from a notebook that documents the history of their love.  This is a movie that is sure to pull at your heartstring and make you appreciate the time you have with the ones you love.


Better Than the Cinema
Just as in an ideal situation, you and your partner can skip movie previews, avoid hearing other people's loud commentary in the dark, and you can pause the entire cinema when you need to use the bathroom. Formovie THEATER puts you in the position to be the creator of the ultimate date night.    
Related Product