A large image in a small space
The 100-inch 1080P full HD screen can be projected 2.5m away from the wall. You can also project any screen size of 40-200 inches by adjusting the distance.
True full HD, brighter and more realistic
By using the latest DLP® technology, Dice can provide clearer, crisper images with its 1080P physical resolution.
Compared with the traditional three-channel LED projection, one channel of blue light is added. The brightness is increased by more than 20%. With OSRAM LED, the NTSC color gamut is greater than 85%. A wider color gamut brings more realistic colors.
Easy to take away
With the artificial leather handle of contrasting color leather texture design, the overall size of 155*125*160 mm, Dice has a similar size to a stand-alone desktop speaker.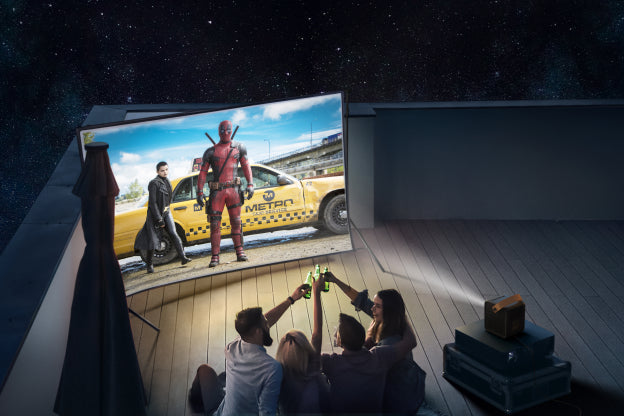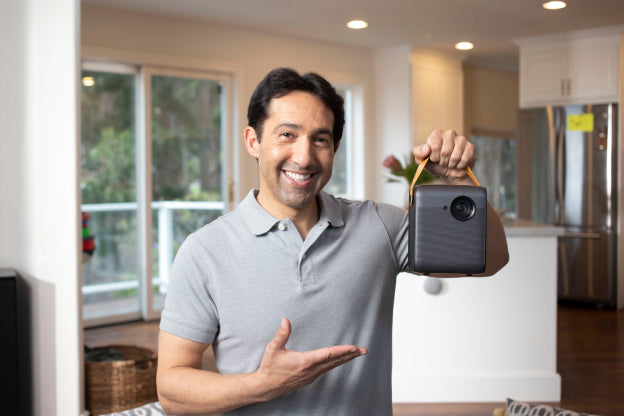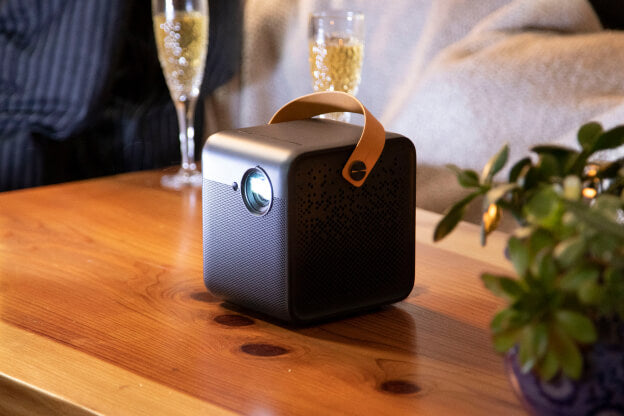 Dice's built-in Android TV 9.0 operating system and Google Play Store allow you to access countless TV shows, documentaries, sports coverages, movies, games and podcasts.
4-Point keystone correction
Dice supports side projection function, which can be ±45° trapezoidal proofreading for left, right, up and down.
Auto focus
Dice is equipped with a focus camera on the front of the fuselage, which can automatically focus on the screen after power on. Just press the power switch and a clear picture can be presented.
More useful features, to get more fun
More comfortable visual experience
Dice uses the diffuse reflection principle to image, it can protect the eyesight of children and the elderly.
Support Chromecast
With Google Assistant, whatever you want to see, just press the voice button on the remote and say it!

Google Assistant
It can connect your phone, tablet, laptop with one click, and is also easy to play on a big screen!
16000 mAh built-in battery
Dice is equipped with a 16,000 mAH battery, wonderful and uninterrupted anytime, anywhere.
Specifications
Dimensions
155 × 125 × 60mm/6.1 × 4.9 × 6.3in
Speakers
Full-range × 2(10W in total)
Notes:
*The battery capacity is 60.86 Wh (with loss deducted), the full capacity is equivalent to 16000 mAH/4.2V of the power bank.
*The best picture size is 60-120 inches; the adjustable picture size is 40-200 inches.
*ALPD®, the laser fluorescent display technology, is based on the technical route of laser-stimulated fluorescence and hybrid multi-color laser for image display. ALPD® is a technology widely used in cinema laser viewing halls.
*25,000 hours is the average service life of the light source, and it is estimated based on the average use of 4 hours per day in a normal environment.
*Support HDR10 decoding: means that the processor supports HDR10.
*Actual product brightness may differ based on the specific test software version, testing environment, and product version. 
*The actual shooting effect under the light of the environment, the actual use will have different effects depending on the ambient light intensity.