·
Buying Guide,
Projector Knowledge
Ultra Short Throw vs Long Throw Projectors - Which Should You Choose?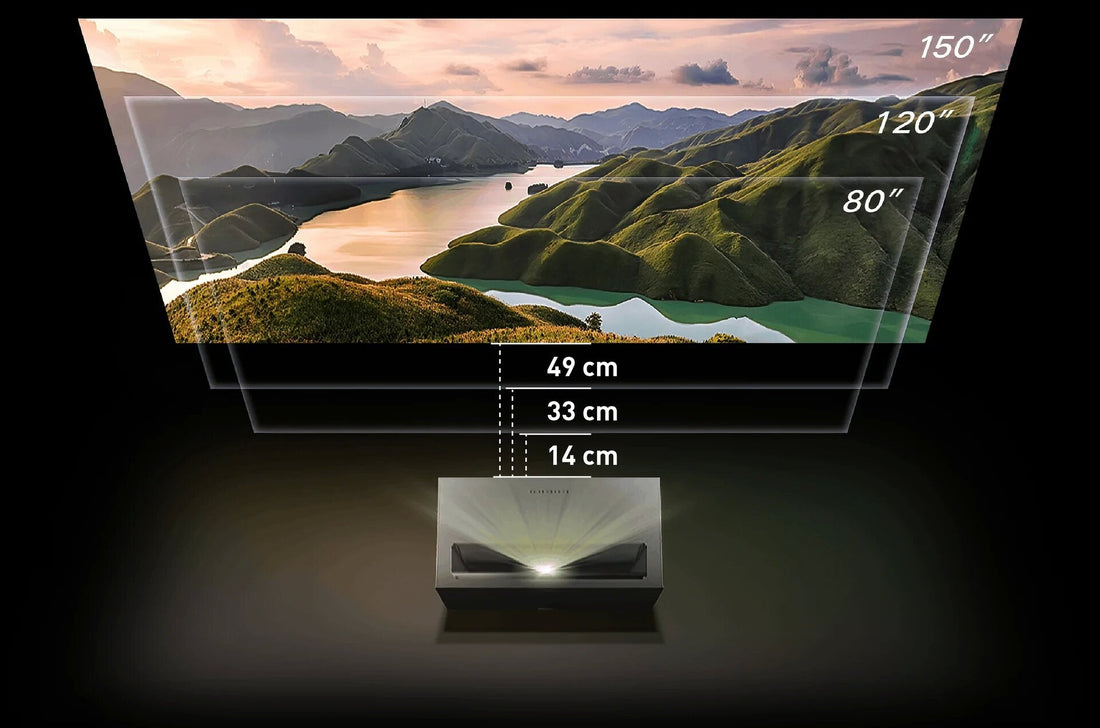 When thinking about setting up or updating a home entertainment area, one of the coolest appliances to have is a projector that will give you the biggest possible display for the space you have. While long throw projectors have always been a favorable option for maximizing the size of a screen, ultra-short throw projectors have gained popularity in recent years for a number of benefits. We're going to explore the benefits of these two types of projectors to help make it easier to decide which one is best for you. 
What Is Throw Ratio?  
The throw ratio of a projector describes the distance the projector needs to be placed from a screen in order to create a picture that fills the screen's width. The formula to calculate this ratio is throw ratio=distance/width. As an example, a projector with a standard throw ratio of 2.0:1 must be placed about 14 feet away from a 7-foot wide (84-inch) screen to achieve a full picture. This is known as long-throw projection. Any projector that can fill a screen of the same size from a shorter distance, or has a throw ratio of between 0.4 -1 is either a short-throw projector or an ultra-short throw projector.
Ultra Short Throw Projector (UST)
Laser TVs are growing in popularity and have even been considered by some as a suitable replacement for a living room TV, due to their minimal space consumption. As the name suggests, the throw ratio of these projectors is significantly low, meaning the device can be placed in the position of a regular TV and achieve a display of up to 150-inches in some cases. UST projectors use a series of lasers and mirrors to create a large image that can be displayed from a very short distance.  
Pros
Space efficient
UST projectors are designed to sit almost right up against the wall like a standard flat panel TV. This makes them the ideal choice for smaller entertainment areas because there's no need to place the projector far away to get a larger image. 
No disruptions
The short distance between the screen and the projector means there is minimal chance of disruptions caused by shadows. It makes the UST a better option for teaching in classrooms and office presentations.
Reduced Glare
There's less chance of looking directly into the light while using a UST projector for a presentation, and that offers a level of eye protection not offered by a long throw projector.    
Surround sound
They're often developed with the speaker built-in, eliminating the need for additional sound equipment that'll take up even more space.
Maintenance
Lasers used in UST projectors can last for up to 20 000 hours and would only need to be replaced approximately 8 years after purchase.
Internet Ready
It's notable to mention that a lot of laser TVs on the market use a Web OS that can be updated often. This means there's no need for additional plug-ins to access your entertainment
Wide Color Gamut and Bright Display 
These projectors can produce motion pictures in a bright room without compromising the vivid colors, contrast, and quality of the picture. 
Cons
Unwanted Noise
Ultra short throw projectors are equipped with cooling fans to help prevent overheating caused by the laser light. When these cooling fans are in use, they can produce an undesirable sound that could potentially be disruptive.  
Premium price
Laser TVs have an average starting price of about $3000, which is arguably more than the average starting price of a long throw projector at around $500. They also require the installation of a light rejecting screen in the perfect position
Long Throw Projector
This is the type of projector that has given us generations of big screen entertainment at the cinema, and it has been developed over the years to allow us to enjoy cinema-style entertainment at home.  Because long throw projectors use a lamp light source to display pictures, they can illuminate very brightly and can therefore display pictures from further away.
Pros
Greater Screen Size
Long throw projectors can display high-quality imagery on screens up to 200- inches wide.
Surround Sound Options
Due to the reduced sound quality of the built-in speakers in long throw projectors, it is an opportunity to invest in a sound system that'll immerse you in the entertainment. Although it is an additional cost.
Cons
Limited flexibility
Long throw projectors are often fixed to one position at the back of a room, and require additional tools and manpower to be installed.

High Installation Costs
In addition to requiring a professional installation, the connectivity of these types of projectors is limited because they require additional plug-ins which usually means the need for an extra long HDMI cable. 
Vulnerable to Shadow Disruptions
The great distance between the projector and the screen means that anything which passes between that space has the potential to cast a shadow on the screen. This is not ideal for teachers, and definitely not when someone is going to the bathroom during a movie.
High Maintenance Costs
Long throw projectors utilize a lamp or light bulb which needs to be replaced after 5000 hours of use. In the long run, constant bulb replacements accumulate costs and can be quite expensive.


Chris Majestic who reviews all sorts of appliances and gadgets took the liberty of comparing a UST projector to a long throw projector in his home theater. He concluded that while the long throw might grant you the best possible screen size in a home theater, the UST is better suited for an overall immersive experience that can be achieved in a standard living room.


Which Will You Choose?
Both types of projectors can achieve vivid color display in a room with bright lighting, with the ability to turn your home into an all-day entertainment area. However, the UST projector is considered to be the next step in the evolution of home entertainment, and could potentially be compact and powerful enough to be a permanent feature in the living room. One of the best laser TVs currently on the market is the Formovie THEATER which was awarded first place at the 2022 Laser TV Showdown, and it was notably the most affordable UST in the competition. If you're considering owning a laser TV, we're offering $200 off the Formovie THEATER to subscribers of the Lightmagic club. 
Ultra-Short Throw Projector Recommendation
The leader of the pack is the 2022 Laser TV Showdown winner, the Formovie THEATER, which combines dazzling 4.0 ALPD Technology with a throw ratio of 0.23:1, enabling it to throw a 100" projection with an ultra short throw distance of just 9". Other features include: 
4K UHD Resolution with Dolby Vision for an accurate display of colors

The screen adjusts to 150-inches for maximum viewing

2800 ANSI lumens and 3000:1 FOFO contrast rate

Bower & Wilkins speaker enhanced with Dolby ATMOS for immersive sound 

The latest Android TV™11.0 supports over 5000 apps to give you endless choices
"With a ratio of 0.23:1, you only need 14cm from the wall to get an 80-inch picture, 33cm for a 120-inch and at 49cm away from the wall, you can get 150 inches of display from the Formovie THEATER. That's quite impressive and generally means that you can almost always have your projector as far away from where you are sitting as possible, which is great for preventing noise pollution. Not that the Formovie THEATER generates a lot of that." - GSMARENA
You may also interested in: How ANSI Lumens Affect Your Viewing Experience
Long Throw Projector Recommendation
Super sleek and compact, the Formovie P1 Pocket Laser Projector is the smallest in the range. This small machine can provide big screen entertainment almost anywhere because it's very simple to travel with. With the throw ration 1.2:1, you can easily adjust the throw distance to produce an image of 40''-100''. and it features:
800 ANSI lumens, which is suitable for viewing in the evening

A 100-inch maximum screen adjustment

ALPD® laser technology for a more accurate color display

Built-in speaker for convenience 

Supports wireless screen sharing from any smart device 

Smaller than a tablet, so it's really portable
The Formovie Mini Projector Dice has 100-inch 1080P full HD screen can be projected 2.5m away from the wall. With the throw ration 1.2:1, you can also project any screen size of 40-200 inches by adjusting the distance. It also boasts:
700 ANSI lumens which are suitable for low to medium light

HDR 10 for the enhanced contrast and color display 

Sound quality that is DTS & DOLBY certified

Android TV

™

 9.0 for more viewing options

Compact design making it portable enough to carry or pack away