·
Buying Guide,
Projector Knowledge
How ANSI Lumens Affects Your Viewing Experience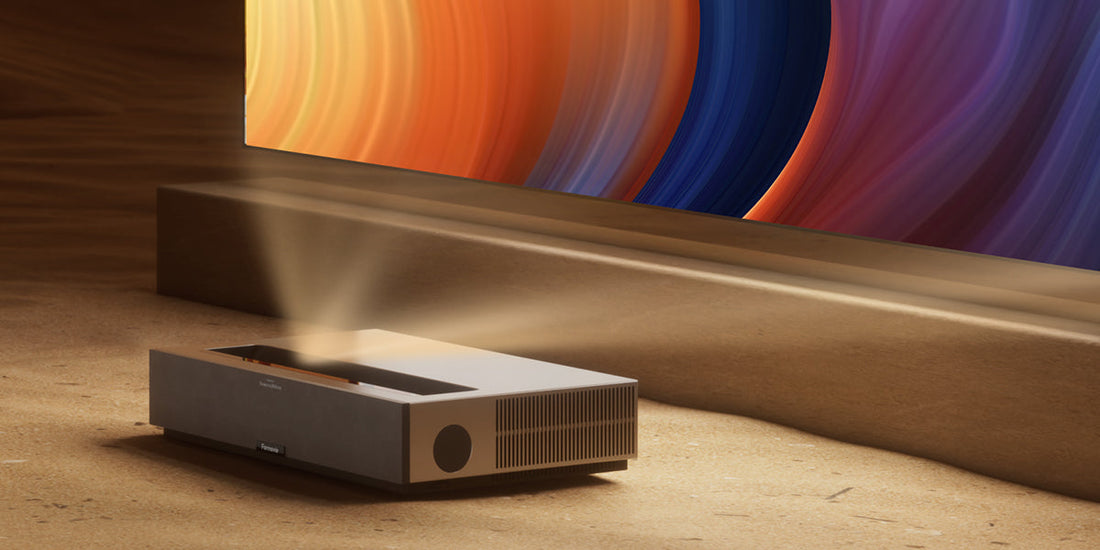 When buying a projector, it's important to consider what you will be using it for and where you will be using it, so you can determine which projector best suits your needs. Factors that are usually considered include price, the clarity of sound projection and color display, and the lumens a projector is capable of achieving. A lumen is a unit of measurement which describes the brightness of light emitted by an object, and without significant light emission, a projector cannot display brilliant pictures. In order to optimize your viewing experience, Formovie measures the lighting capabilities of projectors in ANSI lumens and offers a range of projectors to suit different needs. 
The Difference between Lumen and ANSI Lumens
Although both are units that measure light, there are distinctions between them that make each unique. Lumen is standardized by the International System of Units, and it estimates how much light is emitted from a light source over a period of time, from a fixed angle. As such, this is the best unit of measurement to use when deciding on a lightbulb for the interior of a home, or a spotlight for the exterior.   
ANSI lumen is the luminous flux unit standardized by the American National Standards Institute (ANSI). It is used to describe the light that is emitted specifically by a projector. Testing the ANSI lumens of a projector involves placing it at a certain distance from a white screen, and calculating its  brightness at nine fixed points on the screen with a light meter. The most accurate reading is achieved when the projector is the only light source in the room.  

Do More Lumens Guarantee Better Projection?
Higher lumens do guarantee brighter illumination, but not necessarily better projection. In order to fulfill the function of displaying high-quality images, the design of a projector must consider how the light component and the color wheel work together to reproduce colors accurately. So even a high lumen lamp can lose significant brightness when the necessary adjustments are made to accommodate the display of Red, Green, and Blue (RGB) colors. 
How Much ANSI Lumen Is Suitable?
Because the ANSI lumens capacity of a projector is best tested in a completely dark room and from a specific distance, changes in lighting conditions and room size can affect the display. Here is a breakdown of the approximate range of ANSI lumens needed in different conditions:
Ambient Light:
Dark room: 300~600 ANSI Lumens

Medium Dark: 600~2000 ANSI Lumens

Room with Daylight: More than 2000 ANSI Lumens

Sunny Day Outdoor: 2500~3000 ANSI Lumens
Room Size:
15-30㎡: 100~800 ANSI Lumens

35-50㎡:1500-2000 ANSI Lumens

60-100㎡:3000-4000 ANSI Lumens

120-200㎡: More than 4000 ANSI Lumens
With this guide, you get a better understanding of how much power your projector must have to suit your needs. For instance, a standard classroom using the projector during the day would need a projector with at least 3000 ANSI lumen to get the best picture quality. Whereas someone living in a chick little apartment and only watches TV in the evening can get an excellent viewing experience with around 600 ANSI lumen.  
Formovie's Range of Projectors
Formovie designs projectors that are built for cinema-level entertainment. Currently on offer are two Ultra Short Throw projectors that have more than 2000 ANSI lumens brightness, and two portable projectors that pack no less than 700 ANSI lumens each. 
The leader of the pack is the 2022 Laser TV Showdown winner, the Formovie THEATER, which combines dazzling 4.0 ALPD Technology with 2800 ANSI lumens to produce stunning pictures in outdoor settings. Other features include: 
4K UHD Resolution with Dolby Vision for an accurate display of colors

The screen adjusts to 150-inches for maximum viewing

Bower & Wilkins speaker enhanced with Dolby ATMOS for immersive sound 

The latest Android TV™11.0 supports over 5000 apps to give you endless choices
The Formovie Mini Projector Dice is made for entertainment in small spaces and can be tucked away when not in use to maximize the space even more. It's perfect for tiny homes and apartments because it provides more screens with less space. It also boasts:
700 ANSI lumens which are suitable for low to medium light

HDR 10 for the enhanced contrast and color display 

Sound quality that is DTS & DOLBY certified

Android TV

™

9.0 for more viewing options

Compact design making it portable enough to carry or pack away
Super sleek and compact, the Formovie P1 Pocket Laser Projector is the smallest in the range. This small machine can provide big screen entertainment almost anywhere because it's very simple to travel with, and it features:
800 lumens, which is suitable for viewing in the evening

A 100-inch maximum screen adjustment

ALPD® laser technology for a more accurate color display

Built-in speaker for convenience 

Supports wireless screen sharing from any smart device 

Smaller than a tablet, so it's really portable
Bring it home
Now that you have a better understanding of what it takes to suit your unique viewing needs, you can immerse yourself in quality entertainment that is tailor-made for you. All Formovie projectors seamlessly integrate with many smart devices and are the ultimate addition to your tech collection. Subscribe to the Formovie club to get $200 off when you order the Formovie THEATER, and gain access to our other exclusive deals.