·
Projector Knowledge,
Tips & Tutorials
Can You Replace Your TV With a Laser TV?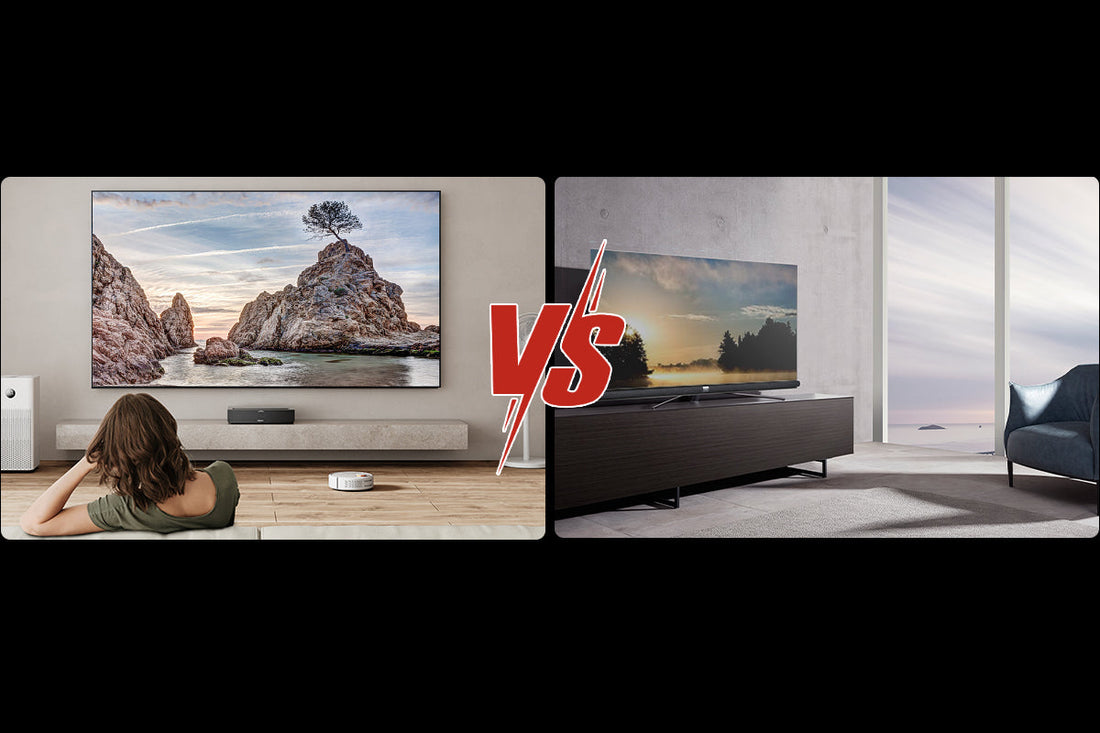 When TVs first became a commodity in the home, it was probably impossible to imagine that the square box of monochrome images would not only evolve to display in color but possibly become advanced enough to display an image that fills a wall. Television systems have progressed tremendously since the first generation of black and white TVs, followed by color TVs, and then the third generation of LCD, Plasma Display, and OLED TVs that are currently the standard in most homes. The fourth generation of TVs, and the next step in the evolution, is the laser TV which is slowly gaining momentum as a favorite for home theater entertainment. The question is, however, can a laser TV replace third-generation TVs as the centerpiece of the living room?
What Is a Laser TV?
As the name suggests, a laser TV uses lasers and mirrors to create images that are displayed on a large white screen. It is essentially a projector that sits right in front of the screen and uses Ultra-short Throw (UST) projection to maximize the screen's size from a short distance. This technology is an advancement in both the realms of projectors and TVs, and it appears to be bridging the experiential gap between going to the cinema and entertaining at home. When weighing the options between a TV and a laser TV, the following pros and cons of each need to be considered.
Pros
Adjustable screen size
By adjust the distance between the laser projector and the wall, the adjustable screen size can give you up to 150-inch viewing.
Eye protection
Laser TV merged with ALPD®  technology added benefit of shielding the eyes against radiation associated with the blue light of liquid crystal display technology.
Portable
It's portable enough for you to replicate your home cinema almost anywhere. Unlike the OLED TV, you can take the laser TV to any friend's house to share the amazing view experience.
Simple to install
Laser TVs are simple to install.
Lower Price
Offers relatively more screen inches for a lower price than OLED screen.
Cons
The brightness is negatively affected by

ambient lighting

The

light reflective screen

needs to be installed perfectly
What Are The Pros and Cons of OLED TV?
Pros
High resolution
Pictures are displayed in high resolution of an OLED TV
High brightness
The screen is bright enough to tackle daytime lighting
Cons:
High cost
The bigger the screen, the more money you pay
Harmful to eyes
Relatively high eye damage caused by light coming directly from the screen
Lack of immersive experience
The built-in speakers aren't capable of achieving an immersive experience
Take up space
Takes up more space than laser TVs
High Maintance
Requires extra equipment and manpower to have it mounted on the wall
Which Is The Best Option For You? Laser TV or OLED TV?
If your priority lies in the clarity and resolution of the images, then your best buy may possibly be the OLED TV. However, if you're interested in having the biggest screen in your living room, immersive sound and imagery, as well as the ability to bring this entertainment with you to any home and any room, then look no further than a laser TV.
You may also interested in : How to choose the best ultra-short throw projector.
The host of Unbox Therapy, Lewis Hilsenteger said that although there were slight compromises to the dark tones of the image while he was using his laser TV in ambient lighting, the overall feeling did mimic that of an enormous TV. This experience is heightened even more by the elegant matte finish of a light-rejecting screen, an effect that can also be achieved with light-rejecting paint.  
One of the best UST projectors currently on the market is the Formovie THEATER which was awarded first place in the triple laser projector category at the 2022 Laser TV Showdown. It boasts features like Dolby ATMOS enhanced speakers from Bowers & Wilkins for riveting surround sound, and it supports Dolby Vision to bring you 4K UHD resolution imagery. In addition to this, Formovie THEATER packs an impressive 2800 ANSI lumens of brightness that are sufficient enough to produce brilliant pictures in daylight ambient light. A few other specs include:
The world's most advanced

ALPD 4.0 Technology

for a vivid display of Red, Green, and Blue (RGB) colors

Screen adjustability of up to 150-inches  

Endless viewing options provided by built-in Android TV™11.0 that supports over 5000 apps such as HBO, Disney+, Hulu
 
For more portable options, there is also the Formovie Mini Projector Dice and Formovie P1 Pocket Laser Projector that give you added choices and convenience when it comes to where you want to entertain.
700 ANSI lumens, capable in low to medium ambient light

Uses a

DLP light source to produce HDR10 imagery 

DTS & DOLBY certified sound quality from the built-in speakers

Certified Android TV

™

9.0 grant you a variety of viewing options

800 ANSI lumens that are suitable for low to medium ambient light

Screen zooms up to 100-inches

ALPD® light source

Built-in speaker

Support wireless screencasting that eliminated the need for additional cables