The Difference Between Lamp, LED, and Laser Projectors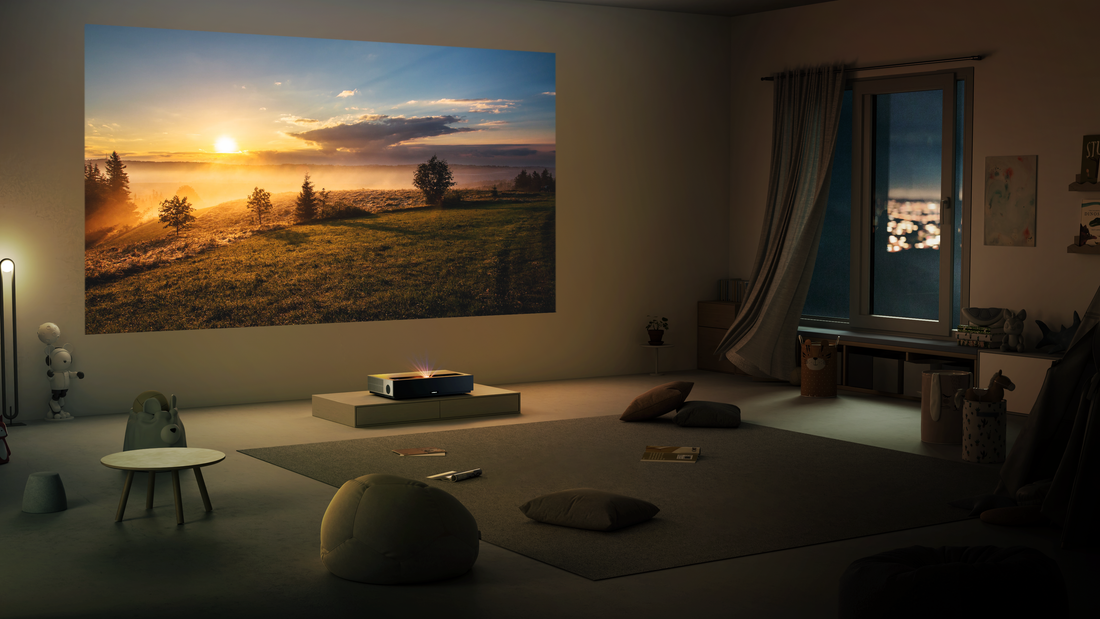 At its core, a projector is a device that's used to display enlarged pictures or motion pictures on a surface for the viewing pleasure of an audience.  The main difference between all types of projectors is the type of light source they use. Choosing a lamp, LED or laser light projector usually has the biggest effect on the picture quality and accuracy of displayed colors, because the brighter the light source, the more details are visible. There are advantages to each light source, and that's part of the reason why they all remain relevant and have not been phased out over time. We'll explore the differences to help you figure out which is better for you. 
What Is a Lamp Projector?
The first patent for a lamp projector, known as a Phantoscope, was filed by engineer Charles Francis Jenkins. The type of lamp that was used in this projector was a carbon arc lamp, but due to their high maintenance requirements, arc lamps were replaced by incandescent light globes which proved to be more efficient. Over time, technology has introduced halogen lamps, xenon lamps, and metal halide lamps that are still highly preferable when screening movies in well-lit areas like the outdoors. 
What Is an LED Projector
LED projectors have provided a cost-effective alternative to lamp projectors since the late 1990s, almost 30 years after the initial introduction of Light Emitting Diodes (LEDs). LED projectors gained popularity after Texas Instruments created the first Digital Light Processing (DLP) projector in 2005, making the LED projector a suitable option for home theaters, classrooms, and business presentations. 
Learn more about DLP projectors here
What Is a Laser Projector
Although it provided higher levels of brightness, and therefore more accurate color displays compared to the LED projector, the first laser projectors remained largely unavailable because of the inflated price. The technology has been improved over the years to reduce speckle noise and make it more affordable to acquire. 
Lamp vs LED vs Laser Projector
Let's explore the differences between the three types of projectors side-by-side. 
| | | | |
| --- | --- | --- | --- |
| | Lamp | LED | Laser |
| Color Performance | Rec. 709 | Up to 125% Rec. 709 | Rec. 709/Rec.2020 |
| Brightness | Can surpass 2000 ANSI Lumens | No more than 2000 ANSI Lumens | Some variants have more than 3500 ANSI Lumens |
| Duration | 10 000 hours | 30 000 hours | 20 000 hours |
| Cost | Very affordable | Relatively Affordable | Relatively Expensive, but with the lowest maintenance costs |
Which Option Is Best for You?
A

lamp projector

is a solid option if you'll be using it to watch videos outside during the day, such as at a sports game, but you should be prepared to replace the bulb often. 

LED projectors

that use DLP technology would require far less maintenance while still providing stunning displays, but they lack sufficient brightness to host your audience outside and should be used in an environment with controlled lighting such as a home theater. 

If you've got the funds to make it happen, a

laser projector

delivers exceptional color accuracy and enough ANSI lumens to withstand the ambient light in an office space, for instance, making it ideal for business meetings and presentations 
Different Types of Formovie Projectors
Formovie gives you the option of two laser light projectors, and an LED light projector to choose from.
Laser Light Source
ALPD 4.0 laser light source 

4K UHD Resolution with Dolby Vision for an accurate display of colors

The screen adjusts to 150-inches for maximum viewing

2800 ANSI lumens and 3000:1 FOFO contrast rate
ALPD® laser technology for a more accurate color display

A screen that's up to 100 inches wide for a fully immersive experience.

800 ANSI lumens, which is suitable for viewing in the evening

Supports wireless screen sharing from any smart device

 
LED Light Source
Uses DLP technology 

Reaches 700 ANSI lumens peak brightness

HDR 10 for enhanced contrast and color display 

Portable enough to carry and pack away
The Light Source to Suit Your Needs
There have been immense technological developments that have altered and improved the way we see motion pictures on the big screen over the years, but it can be said that LED and laser projectors are currently the best options, and we should expect more advancements in the future. Explore the Formovie range of projectors for your best option of LED and laser light projectors.