Enjoy Endless Content With Google TV Apps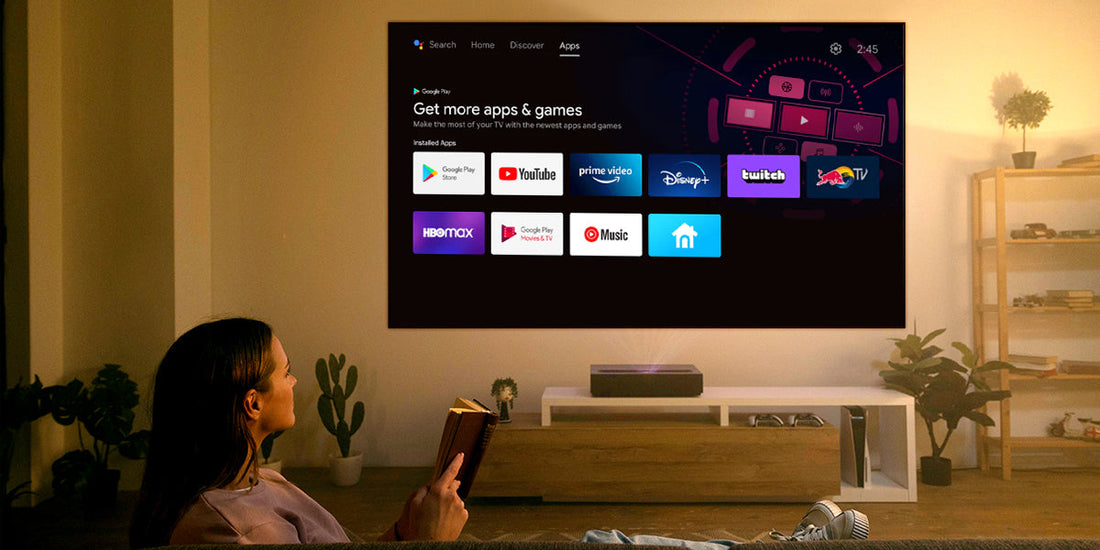 Android TV has been around for nearly a decade, and in that time it's managed to squeeze itself right into the center of the smart TV industry to become one of the leading sources of streaming apps. The Formovie THEATER and Formovie Mini Dice are both smart projectors that have Android TV as a core feature, opening the doors to an array of entertainment options. The best part about an OS like Android TV is that it broadens your list of content to go beyond just entertainment, it's possible to use it for work, studying, and keeping fit at home. Let's explore some of the apps that you can download directly onto your Formovie projector for ease of access.
Entertainment
The combination of a large screen, built-in speaker, superior color display, and Android TV makes a home projector the ideal entertainment system. There's a huge collection of movies, TV shows, and sports games that you can enjoy on the many different apps.
Hulu
A leading streaming service that offers some of the latest and greatest shows and movies that the entertainment industry has to offer. 
Disney+
An app dedicated to delivering thousands of series and movies from the world's greatest storytellers, with programs suitable for the entire family.
Fubo TV
Catch live sports games on this sports-focused TV app where you can stream and record sports games from leading networks like FOX or NBC.
Netflix
You can still enjoy some of the most popular movies and series on this streaming app, even though it can't be downloaded directly onto your Formovie projector, you can still stream Netflix on Formovie THEATER with the help of this guide.
Study
ABCmouse.com
ABCmouse.com uses modern teaching methods to prepare your child for school with a selection of math & science, reading & writing, and puzzles & games. 
Duolingo
Learn more than one language on this fun and engaging education app where you can practice vocabulary, grammar, and pronunciation.
PBS Kids Video
The PBS Kids Video app offers a collection of educational programs for kids that can be accessed at any given time, such as Daniel Tiger's Neighborhood and Sesame Street. 
Work
A projector can be a very useful tool in the office because, in addition to forming an integral part of business presentations, it can be used to host large-scale conference calls. 
Google Meet
You can share videos, presentations, and your desktop in a high-quality video meeting with various groups like colleagues, classmates, and students. 
Zoom 
Zoom offers a modernized workflow with trusted collaboration tools like video meetings, a whiteboard, team chat, and VolP phone.  
Duo
Duo is designed to let users make and receive video and audio calls with end-to-end encryption either in a one-on-one or a group setting.
Exercise
You don't have to leave the house to burn your daily calories, your favorite fitness apps can also be used on Android TV so you're not restricted to your smartphone. 
Nike Training Club
You'll have access to more than 185 free training apps whether you're looking for bodyweight-only sessions, cardio, or other targeted workouts specifically catered to your strength level.  
Daily Yoga
Take part in 1000+ yoga classes created by professional yoga coaches and delivered through vivid and detailed videos.
Formovie Can Boost the Viewing Experience
Both the Formovie THEATER and Formovie Mini Dice projectors have Dolby-certified sound systems providing the finest quality of audio to accommodate your video content.

While Formovie THEATER can display a stunning 4K UHD display, the screen can reach a maximum size of 150 inches, which is less than the massive 200 inches of the Formovie Mini Dice.

Discover all the reasons why you need a 4K projector here.

They both have certified Android TVs, the portable projector is fitted with Android TV 9.0 and the laser TV has Android TV 11.0 which allows you to download more than 5000 streaming apps
The Options are Endless
Once you've experienced a smart projector with Android TV, it'll be hard to get back to the regular way of consuming content, and that's a good thing. The home theater can also function as a sanctuary where you can work, exercise, and educate your family in the most innovative and immersive way. 
You may also like to read this article about How to Spend Quality Time with your Family and Formovie