Stream Netflix on Your Formovie THEATER – Here's How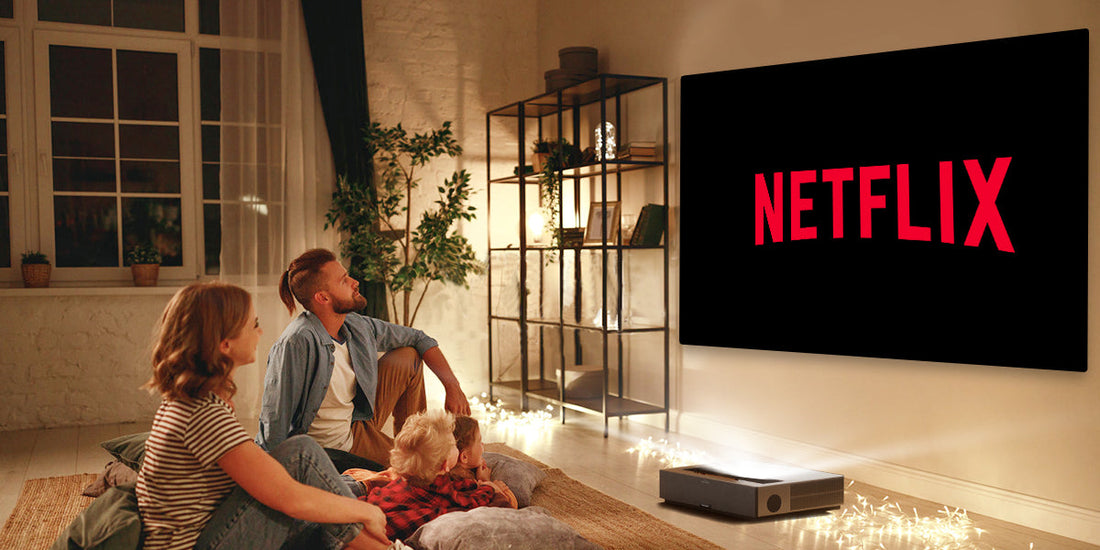 Owning a projector guarantees that you can watch your favorite content in the most immersive way possible. The Formovie THEATER is loaded with powerful features that transform any video into a pleasurable viewing experience, such as a massive 150-inch screen, 4K UHD resolution, in-built surround sound courtesy of Bowers & Wilkins and Dolby ATMOS, and Android TV 11.0 to provide you with an entire host of viewing options. Netflix, however, isn't currently a built-in feature of the Formovie THEATER, but you can still enjoy your favorite Netflix movies and series in the best way possible.
How to Stream Netflix on Formovie THEATER
Since Netflix is designed to be enjoyed on multiple platforms like your mobile phone or laptop, you can connect your smart devices to the projector using either one of the available connectivity options.
Use Your Laptop
You have the option of connecting your laptop wirelessly to the projector, and streaming Netflix from the laptop. To ensure that the connection is seamless, make sure that the Formovie THEATER and the laptop are connected to the same Wi-Fi network, otherwise, you might have some difficulty streaming. Alternatively, you can manually connect the laptop to the projector with an HDMI cable.
If your laptop runs on macOS, you may face the inconvenience of lag when using a projector. However, the auto low-latency feature of the Formovie THEATER could make up for that. Connect the laptop to the laser TV using any one of the casting options provided by Airplay.
Get a Streaming Stick
A streaming stick or box is a gadget that connects to TVs and laser TVs via the HDMI port, allowing you to connect to the internet and stream from multiple streaming services like Amazon Prime and Netflix. There are a variety of these gadgets available, so we've narrowed down the options to the top 3, according to a review conducted by the trusted Tech Advisor.
Stream from an iPhone or Android Devices
Much like streaming from a laptop, you can connect to the projector wirelessly with a cellphone, and then proceed to use the Netflix app on your phone while the image is cast on the big screen. The Formovie THEATER has built-in Chromecast so the integration from an Android device is often very smooth and simple. But you will have to use Airplay for an iPhone, and that could result in slight latency. 
Common Problems with Streaming Netflix on a Projector
As mentioned before, latency is one of the problems that one can encounter when streaming Netflix from a third-party device onto a projector, but there are other problems that you may run into. Nikhil Singh of Entertainment Den has conducted some research to find answers to the most common problems that users face when attempting to stream Netflix on a projector, but here are two that are directly related to the Formovie THEATER.
Can't stream Netflix from iPhone/iPad
This is often related to the limitations of your network setting, and you'll need to reset network settings to get everything working. This will not affect any of your data, except you'll need to sign in to your Wi-Fi network again. It's also beneficial to avoid using Airplay.
Netflix is playing sound, but there's no image
One of the results of not regularly updating the OS of devices, be it a streaming stick or a projector, is that sometimes there will be a glitch. This is one such result. Ensure that all your devices are up to date to provide yourself with the best entertainment. 
Netflix and Chill with Formovie
Nothing is impossible if you do a little research, and we hope that this guide gave you enough information to start enjoying your favorite Netflix shows on the ultimate laser TV.