Design a Minimalist Home Theater with a Laser Projector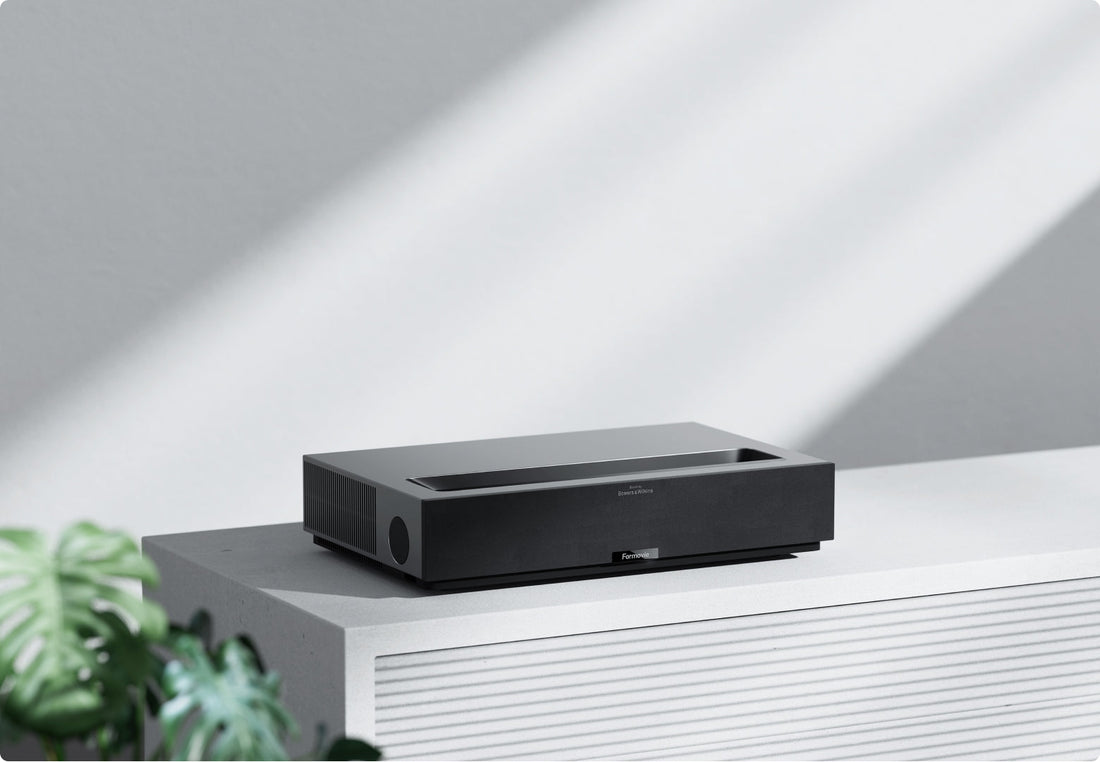 If you're going for a minimalistic style when redesigning a home's entertainment area, you probably don't want the big-screen TV to be the focus of the whole room. But more often than not, the clean, minimalist aesthetic is broken by a massive black box that only comes alive for half the day.
This can be an interior designers' worst nightmare when they're doing a home decoration or renovation. To maintain the essence of a bare, uncluttered space, it's almost as if you need an invisible TV.
A laser projector offers just that. What's even better is the fact that an ultra-short throw projector (UST) delivers a large screen size, all while maintaining a minimalistic style. A laser projector like the Formovie THEATER offers award-winning 4K UHD resolution displays and an adjustable screen that goes up to an incredible 150 inches. It can transform a basic living room setup into the perfect minimalist home theater room. 
Perfect at Any Time of Day
The best TV screens currently available, usually OLED or AMOLED, have an undeniably beautiful way of displaying images and maintaining crisp resolution. However, their beauty only exists when the screen is on. Because when it's off, a TV screen does a great job of reflecting the closest source of light and just becoming an eye sore.
The Formovie THEATER uses the most Advanced Laser Phosphor Display (ALPD) technology, ALPD 4.0, to accurately display more than 1 billion colors and deliver the same crisp resolution offered by a TV. It reaches its peak output at an astonishing ultra-high brightness of 2800 ANSI lumens so you can entertain even in a well-lit room. When it's not in use, it sits discreetly on the TV stand or mounted on the ceiling to reveal the bare aesthetic every minimalist is after. 
Complete Entertainment with No Additional Plug-ins
Another reason a laser projector is perfect for the minimalist style, most especially the Formovie THEATER, is the built-in sound system. Unless your home has been built to hide speakers in the ceiling, or you have a very creative way of concealing external speakers, a plug-in like a soundbar could potentially add clutter to your living room setup. 
The Formovie THEATER comes with built-in Bowers & Wilkins speakers, eliminating the need for external plug-ins in small spaces. This is one of the only 4K UHD projectors with certified Dolby ATMOS, which gives the speakers surround sound capabilities for the most immersive sound experience. In addition to the Dolby ATMOS, the Formovie THEATER is also one of the only projectors with Dolby Vision, giving it the power to display all types of High Dynamic Range (HDR) content. 
You can stream a wide range of Dolby Vision and HDR 10+ content directly on the Formovie THEATER from ESPN+, Disney+, Amazon Prime, or any of the other 5000+ streaming apps available on Android TV 11, the primary operating system. You can stream potentially anything without needing to plug in an external streaming box. The only exception is Netflix, which does require you to use a plug-in to access it.   
You can learn how to stream Netflix on the Formovie THEATER here.
Huge Displays in Small Spaces
The minimalistic style is very popular in small spaces because they can be really easy to overfill. So it makes sense to want to avoid getting a projector for the entertainment area because they often need to be placed far from the screen to get the perfect display. A UST projector is built for space maximization. 
The Formovie THEATER is a UST projector that offers a 150-inch screen size from just 49cm away, that's less than half a meter. And if your entertainment area doesn't have a wall that can accommodate that massive size, you can get an 80-inch display by placing the projector 14cm away from the screen.
Although you don't need any additional plug-ins if you have a laser projector like the Formovie THEATER, it can function in the same way a TV would if you wanted to use a gaming console. So when you need it to, your minimalist home theater can become the ultimate game room.
And when you need to declutter, it's quite possible to pack both the console and the laser projector away, in order to make the most of your small space. It has ample connectivity ports for any type of console you'd need to connect. 
Totally Minimalistic
The big black box that disrupts the calm of your minimalistic home theater can finally be a thing of the past. The Formovie THEATER's dimensions are 21.7 x 13. 7 x 4.2 inches, which is only slightly larger than a PlayStation 5 comes in at 15.4 x 4.1 x 10.2 inches.
The laser projector has a clean and subtle design that allows it to blend very easily into any space without becoming the focal point until you power it up. It really is just like an invisible TV. Get $300 off the Formovie THEATER when you sign up for Formovie news updates.