·
Lifestyle,
Product Information
Gaming Is Far Better on a 4K Formovie Projector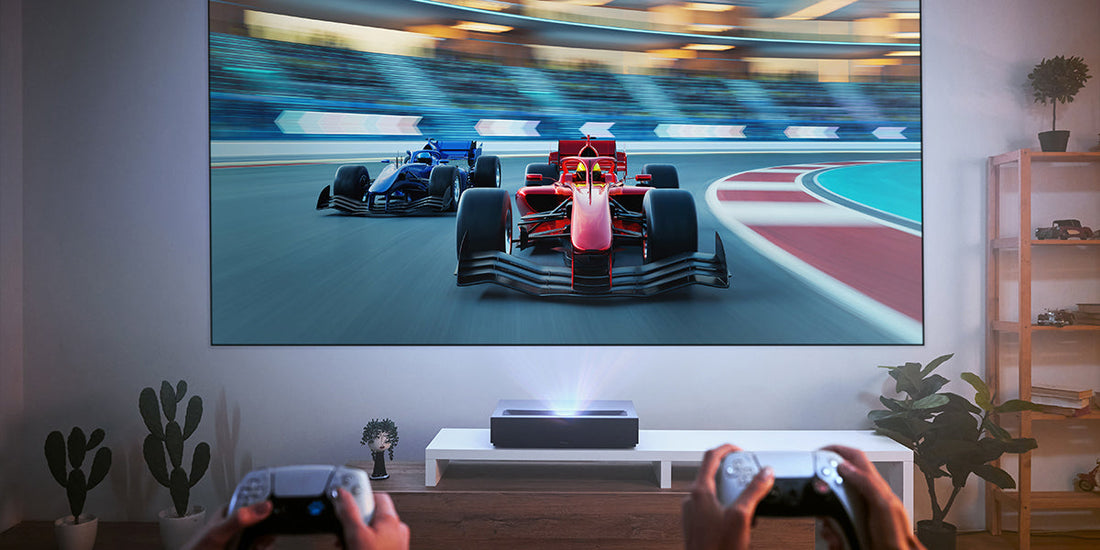 Ideally, playing video games allows you to escape from the tension of daily life, and be absorbed into a world where you have full control of the outcomes with just a few clicks on your console. While gaming on your pc or phone can be convenient, there's absolutely no better way to be immersed in a game than with a massive 4K UHD screen. The Formovie THEATER is built for the ultimate immersive experience whether you're watching movies, enjoying live sports, or engaging in multi or single-player video games.
How Does a 4K Projector Enhance the Experience?
There are three main elements of a 4K projector that enhance any viewing experience, and an additional feature that is unique to the Formovie THEATER that makes it an ideal projector for gaming specifically.
Although video games are created using computer-generated images (CGI), a screen with 4K resolution produces about 8 million individual pixels that work together to display a realistic and vivid image. This means that all the efforts made by the game's producers to deliver a top-quality product aren't lost when you're gaming on a 4K UHD screen, and fine details like sweat and tiny grass blades are distinctly visible. 
A Massive Screen
Projectors are renowned and sought after for their large screen size, and most of them can project beautiful motion pictures on a screen that's no smaller than 100-inches. This allows for a completely captivating experience that can leave the viewer feeling like they're a part of each action-packed scene. This is perfect if you enjoy the escape provided by gaming because each movement will be in full view to give you front-row engagement with your avatar.
Stunning Audio
Gaming can appear to be an experience that's centered around the visual stimulus, but the avid gamer knows that to truly enjoy a game, nearly all your senses should be stimulated. A gaming projector with a built-in sound system, such as the Formovie THEATER, takes care of the auditory stimuli while eliminating the need for additional sound equipment. Formovie THEATER comes with built-in Bowers & Wilkins speakers and Dolby ATMOS surround sound technology for an immersive sound experience that compliments the beautiful image on the screen.
Low-latency Game Mode
The delay between user interaction and the game's response is referred to as latency, and low latency is the ideal interaction speed for gaming. If a screen or output device has high latency, there will be a delay (lag) in the game that can quickly diminish the experience and enjoyment of a highly competitive game. A unique feature of the Formovie THEATER is that it is equipped with an Auto Low-latency Mode (ALLM), which means it can detect the interaction with a gaming console and switch itself to low latency.
A projector with a response rate of 0-20 milliseconds (ms) is considered to be high speed, 20-40 ms is considered fast, 40-62ms is slow, and a projector with a response rate of 63 ms or more is considered very slow. According to a review posted on Andro4All, the game mode on the Formovie THEATER has a fast speed of 34 ms which is suitable for gaming.
Make Gaming Better with Formovie 
A great alternative to mobile or PC gaming is the fully immersive experience provided by a projector with 4K UHD resolution like the Formovie THEATER. It uses the latest ALPD 4.0 laser light to transform any video or game into a completely colorful visual experience. Join the Formovie family by subscribing to our email list to receive exclusive member-only discounts and specials.