Formovie's Gift Guide for the New Year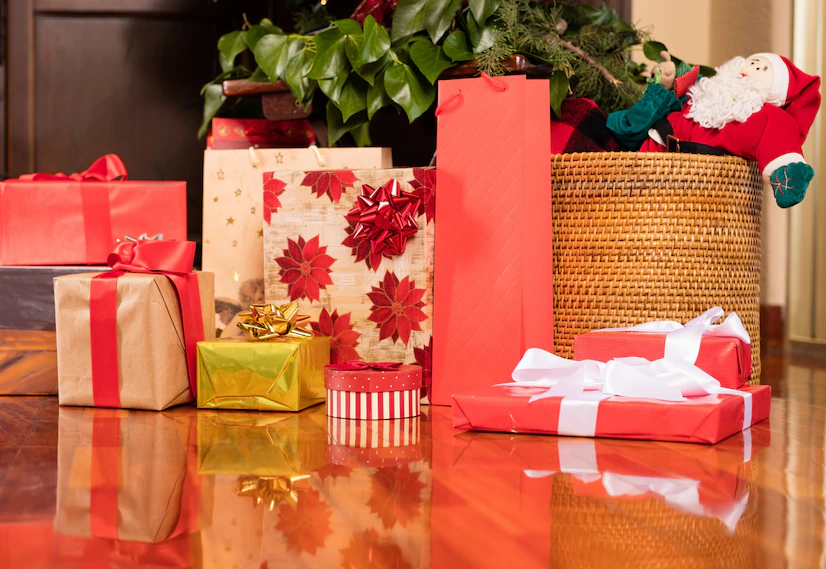 2022 has seen a variety of gadgets and appliances being introduced into the global market, with some performing better than others. As the year draws to a close, we've taken a delve into finding the best of these wonderful contraptions and compiled a list of the coolest gadgets and appliances of 2022 that you can gift to your loved ones for the New Year.
Smart Watch
A timepiece is certainly one of the most timeless gifts, and while an analog wristwatch is a classic item to own, the digital age has brought us some of the most interactive wristwatches of all time. The smartwatch goes beyond just telling you the time and what day of the month it is, it lets you read messages, screen phone calls without lifting your mobile device, and even helps you keep fit by keeping track of how many steps you take during each day. 
An Apple Watch is your best bet if you own an iPhone, with the Apple Watch Ultra coming out at the top. But if you're not prepared to start the New Year off short of an arm and a leg (approximately $800), then the Apple Series 8 is another great option for half the price. 

For Android users, the Samsung Galaxy Watch 5 and 5 Pro offer great features like YouTube Music, Google Assistant, and Google Maps, however, they're only able to track your heart rate when paired with a Galaxy device, according to a review of

Cnet.com

. The Google Pixel Watch has a beautiful design and is compatible with all devices running on Android 8.0 or higher.
Gift Card
Gifting someone a card on a special occasion will never go out of style, especially if that card can be used to buy something else. Gift cards are a unique way of telling your loved one that you really want them to have the gift that THEY truly want, without the hassle of actually buying the gift. 
For instance, an Amazon Gift Card opens the door to an array of possibilities in terms of things that you can shop for online, and it can also be used to settle the bill of your Amazon Prime Video Channel subscription. 

Amazon Prime and Hulu are two of the 5000+ streaming apps that can be enjoyed on the Formovie THEATER, so the gift card could potentially be used to enjoy an immersive viewing experience in your home theater. Alternatively, you can opt for a Netflix Gift Card, and follow

our guide to streaming Netflix on the Formovie THEATER

, since it's not yet compatible with the laser TV.
Air Purifiers
Start the New Year with a breath of fresh air! Air purifiers with a HEPA filter can remove more than 90% of air pollutants in a room, so they're one way to guarantee that your home is always the best place to take a breather. If you're planning to send one as a gift to someone who has pets
If you're planning on sending an air purifier as a gift to someone who has pets that live indoors, then an article on

Forbes

suggests that you should go for the Hathaspace Smart Air Purifier 2.0. It retails for $300, and can effectively remove up to 99% of allergens and pollutants, including pet dander and dust particles. 

Another option is the

Jya Fjord

range of air purifiers, which are a great choice if you're looking for the perfect all-rounder.  With a retail price of about $350, they're relatively compact and lightweight, but still powerful enough to neutralize up to 99.99% of harmful particles in the air.
Earphones
For music lovers who enjoy indulging in each component and musical instrument within a song, a quality pair of wireless earphones can provide a thrilling personal experience for all their favorites. They're also ideal for video calls and mobile games because they allow more freedom of movement compared to plug-in earphones, while still providing the privacy you need to communicate.
REDMAGIC Cyberpods which retail for just under $50 are designed specifically for the best gaming experience, with a 60mAh battery in each earpiece and a 500mAh battery in the case for up to 20 hours of juice. When paired with the REDMAGIC 7 series smartphones, they have a low latency gaming mode of 39ms for uninterrupted in-game communication. The enhanced bass and vocal tones are great for listening to hip-hop and pop music, according to a review by

Gamesky

. 

If you want to splurge on earphones on the high end of the price scale, Sony WF-1000XM4 is reported to be the best earphones of 2022 by a variety of tech review sources, such as

TechRadar

. They're currently available on Amazon for $178, offering features like noise cancellation and built-in  Alexa.
Formovie Projectors
One of the best gifts to share with your entire family is an addition to the home entertainment system, like a Formovie projector. Formovie is dedicated to creating a cinematic experience out of all video content by building projectors with a huge screen, a built-in sound system, and a stunning picture resolution. You can spend the New Year indulging in movies or playing video games in the most immersive way, and you can take the projector outside for a unique outdoor experience.
The Formovie THEATER entered the market in 2022 and stole the hearts of a panel of UST projector experts, who all agreed that it was the best triple laser projector at the 2022 Laser TV Showdown hosted by Projector Central and ProjectorScreen.com. It's built with 2800 ANSI lumens and 4K UHD resolution, bright and brilliant enough to be enjoyed outdoors. It also has built-in Bowers&Wilkins speakers with Dolby ATMOS for an immersive surround sound experience.

The Formovie P1 Pocket Laser Projector is super sleek and compact, and it's one of the thinnest projectors on the market. It can project a large 100-inch screen almost anywhere because it's very simple to travel with, and it features wireless screen casting to conveniently widen your range of viewing options, and an onboard speaker so you needn't worry about additional plug-ins.

For smaller spaces, the ideal projector is the Formovie Mini Projector Dice which can be conveniently tucked away when not in use. It runs on the Android TV 9.0 OS to give you direct access to your Google Assistant and a host of streaming apps. 
Have a Happy New Year
It's been a great year of discoveries for tech enthusiasts around the globe, and we look forward to seeing what the new year has in store for all of us. The Formovie Team wishes you a prosperous holiday season, we hope to engage with you again in the new year.