Competitor Comparison: Choosing the Best Projector for Your Home Theater
Adding a projector to your home theater is one of the most elite improvements you can make to your home in this decade. The supply is finally catching up to the demand, with more manufacturers entering the short-throw and ultra-short-throw projector market and giving consumers more options to choose from. But, which one should you choose? A great way to see how any product performs next to its closest competitors is to literally try them out side by side. 
If we're talking about a pair of shoes, then it's pretty easy to put Adidas on the right foot and Nike on the left to see which is most comfortable, or suits your style more. If you're considering adding a projector to your home theater, the best way to get a side-by-side comparison is by looking at all the specs, benefits, and downsides of each product. We'll look at a side-by-side comparison of the Formovie THEATER alongside two of its closest competitors, the Hisense L5G-CINE100A and the Samsung Premier LSP7T, to determine which home theater projector is best for you. 
Room Size and Throw Distance
Aside from picture resolution and contrast levels, both of which are important, the main reason UST projectors are more favorable than traditional projectors is the throw ratio. The throw ratio describes the distance a projector needs to be placed from the screen to display a full-sized image of 80 to 150 inches. Throw ratio is calculated using the formula Ratio=Distance/Width.  
A normal or long-throw projector is placed up to 3m away from the screen to achieve the same display a UST projector would achieve from less than 50 cm away. The ability to display a 100 to 200-inch screen in a standard-sized room has given more people the ability to have a dedicated home theater room, a luxury no longer reserved for mansions with massive rooms. 
The Perfect Screen Size for Your Room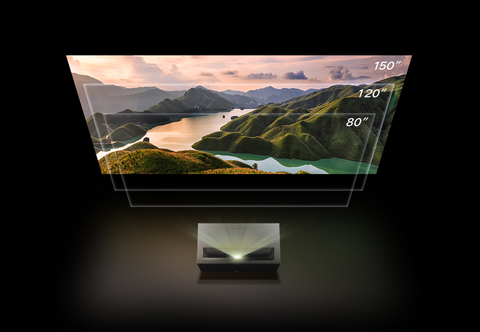 While UST projectors are the best way to get a massive screen in a small room, there are some 
limitations to consider, like the size of the wall you'll be projecting or placing the screen on. It is unlikely that a small room will be able to project all 150 inches (381 cm) that the Formovie THEATER has to offer, and finding the perfect screen size for your room comes down to your seating arrangements and what the most realistic and comfortable distance will be. 
A UST projector with a smaller throw ratio and a wider image size throw distance range gives you more flexibility in tighter spaces or larger rooms, so this is the first thing you should consider when buying a home theater projector.
| | | | |
| --- | --- | --- | --- |
| | Formovie THEATER | Hisense 100L5G | Samsung LSP7T |
| Throw Distance | 0.4 m - 0.8 m | 0.6 m - 0.7 m | 0.2 m - 0.4 m |
| Image Size | 203 cm - 381 cm | 253 cm - 305 cm | 229 cm - 305 cm |
| Throw Ratio | 0.23:1 | 0.25:1 | 0.25:1 |
Sufficient ANSI Lumens to Combat Ambient Light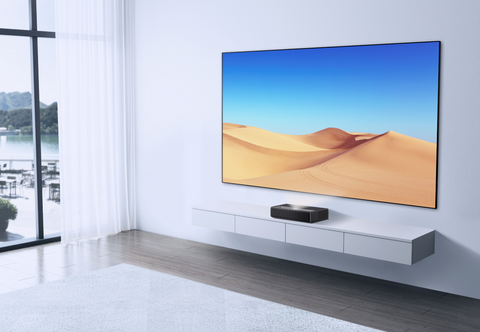 * View More About our Special Deal >> Formovie THEATER + 100'' ALR Screen
The next factor to consider when choosing a projector for your home theater is the brightness. This factor has two branches: the brightness of the room (or ambient light), and the brightness of the projector also known as ANSI Lumens. Unless you're determined to only utilize the home theater projector in a dark room or the evening, the projector should have no less than 2000 ANSI lumens of brightness to display a clear image in a well-lit room or during the day.
| | | | |
| --- | --- | --- | --- |
| | Formovie THEATER | Hisense 100L5G | Samsung LSP7T |
| ANSI Lumens | 2800 | 2700 | 2200 |
It's important to note that more ANSI lumens don't necessarily guarantee the best image and the display can be affected by the contrast levels and resolution of the projector. An imbalance between the contrast levels and screen brightness can result in a washed-out image.
Learn more about how ANSI Lumens can affect your viewing experience here.
Understanding Resolution and Clarity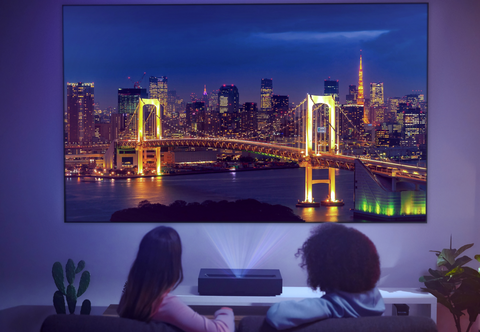 Resolution describes the number of pixels per inch in a displayed image. The more pixels an image has, the more details will be visible. A 720p projector has 1280 x 720 pixels per inch, while a 4K projector has 3840 x 2160 pixels per image, allowing it to deliver a more realistic image that is described as Ultra-High Definition (UHD). 
Image clarity is also determined by the contrast ratio which determines the level of color accuracy. A projector with a high contrast ratio can display contrasting colors right next to each other effortlessly. Practically speaking, a contrast level of 2500: 1 means that the white image is 2500 times brighter than the dark image.  
| | | | |
| --- | --- | --- | --- |
| | Formovie THEATER | Hisense 100L5G | Samsung LSP7T |
| Resolution | 3840 x 2160 | 3840 x 2160 | 3840 x 2160 |
| Contrast | 3000: 1 | - | 1000: 1 |
Is the Projector Compatible with External Appliances?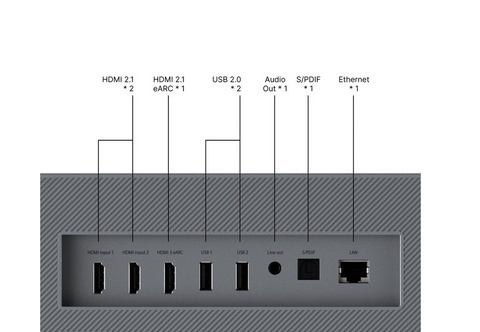 The projector must have the ability to function as an all-around entertainment unit, including the ability to connect your favorite appliances like an external sound system or gaming console. The ideal home theater is built with enough connectivity ports to allow you to connect more than one appliance simultaneously. 
Formovie THEATER
Hisense 100L5G
Samsung LSP7T
HDMI
3 x HDMI 2.1
2 x HDMI
HDMI 2.0
2 x HDMI
HDMI (HDCP 2.2)
USB
2 x USB
2 x USB
USB
Audio Out
Optical
Mini Jack
2 x Mini Jack
Optical
Make an Informed Decision 
Placed side-by-side, the specs of all three projectors are similar, but the small variations between them make all the difference. The Formovie THEATER comes out on top in throw distance, image size, and throw ratio, as well as ANSI Lumens and contrast levels. Because all three projectors on this list are in the same price range, that's a factor that you can weigh for yourself based on your budget or brand loyalty, but the Formovie THEATER can meet all your display needs and deliver outstanding image displays in your home theater all day long.