Making the Transition from a TV to a Laser TV
The battle between TVs and projectors has escalated immensely over the past few years with the introduction of laser TVs. This is because unlike a traditional projector, a laser TV or Ultra-short Throw projector offers the same incredible display as an OLED panel while minimizing the space required to get a massive screen so that it can be part of a standard living room. A laser TV can transform anything you watch into a fully immersive cinematic experience, including your favorite TV games.
There are a few factors to consider before making a permanent switch to a laser TV and replacing the TV completely, we'll be taking a closer look at some of them to make the transition easier for you. 
What Is a Laser TV and How Does it Work?
A laser TV is a projector that uses laser diodes as its light source instead of a lamp or LED, allowing it to produce bright and vibrant images with high contrast ratios. The light source is made up of three lasers which are Red, Green, and Blue, which combine to create a full spectrum of colors and display brilliant images. The concentrated light source allows the ultra-short throw projector to be placed closer to the screen or surface for a cinematic experience in confined spaces.
Learn more about how a Direct Light Processing (DLP) projector works in this article
Factors to Consider Before Replacing Your TV
Budget can be a huge determining factor when the time comes to replace a regular TV with a laser TV because it can affect your decision to add an external sound system and an ambient light-rejecting screen, both of which can make your viewing experience even more exceptional. To find out if it's worth spending the extra bit of money, let's weigh the pros and cons of laser TVs. 
Benefits
A laser TV has the same properties as a projector, giving you the ability to adjust the screen size and make it bigger for more entertainment value or decrease the size for regular viewing.

An additional benefit of the adjustable screen is the cost-to-screen size ratio. A 150-inch OLED panel will cost relatively more than a laser TV, making this the more affordable option by comparison

The laser lights don't need to be replaced or repaired often, making the laser projector a low-maintenance product compared to a regular projector

Laser TVs offer 4K UHD displays with brilliant color accuracy and incredible contrast levels, and they are bright enough to be used in a well-lit room for daytime viewing.

The potential for eye damage is minimized because the light from the projector is reflected onto the screen and doesn't penetrate the eyes directly.
Limitations
A special type of screen is needed to get the best display, potentially putting more strain on a tight budget. The ambient light-rejecting screen may also need to be installed by a professional, further increasing the set-up costs. 

Even with the use of the screen, the laser projector can be negatively affected by ambient light which may require you to draw the curtains or switch off the light to enjoy the display.  

Laser TVs are a fairly new technology, which means that even the biggest manufacturers have only a few options that you can choose from. The lack of competition means that the technology will remain fairly expensive for the foreseeable future. 
The Versatility Offered by Laser TVs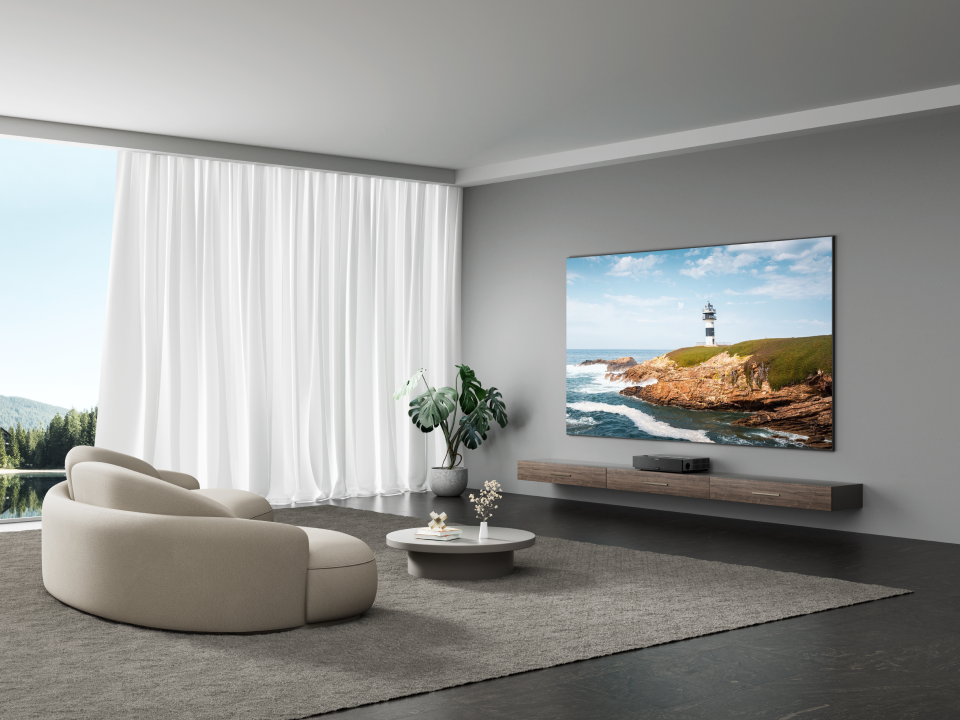 While a big-screen TV can be entertaining and deliver stunning displays, a laser TV can make your home the place to be. A laser TV like the Formovie THEATER has a variety of built-in connectivity options that make it possible to connect an external sound system or gaming console, just like a regular TV. The huge screen size, built-in sound system, and features like Motion Estimation, Motion Compensation (MEMC) enhance the viewing pleasure by making everything more realistic.
Formovie THEATER User Experience
Ultra-Short Throw projectors are a niche product that very few people have interacted with, so it's unlikely that you'll get an accurate peer review. Luckily for us, there's an entire slew of tech heads and reviewers that have dedicated their time to testing out products and giving you the closest thing you'll get to a real peer review. 
The Formovie THEATER is one of the best laser TVs currently on the market, and it has been described as "the best plug-and-play theater experience you can get '' by Max Tech, and "absolutely awesome" on the Free Tech YouTube page. It has unmatched color accuracy, contrast, and brightness for top-notch displays. It also runs on the Android TV 11.0 OS, giving you the option of more than 500 viewing apps. 
An Incredible THEATER Experience Awaits
Making the transition from standard TV to laser TV comes with the benefit of transforming your entire viewing experience whether you're watching movies, playing video games, or just catching up on your favorite shows.